53 Procopio Attorneys Recognized as 2021 Top Lawyers by San Diego Magazine
53 Procopio Attorneys Recognized as 2021 Top Lawyers by San Diego Magazine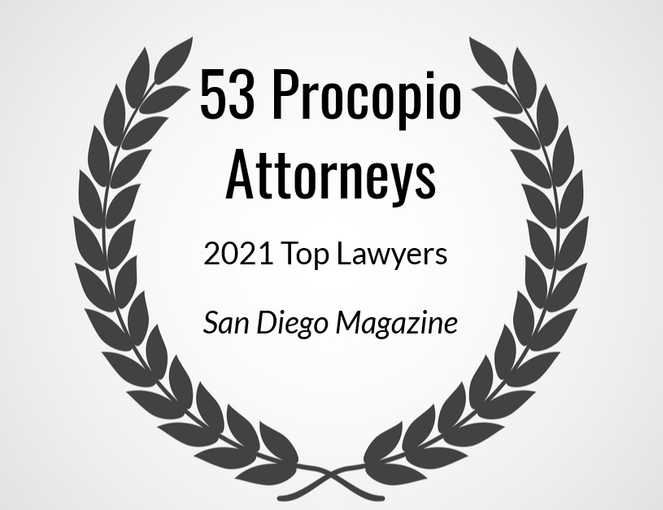 March 15, 2021 (San Diego) – A total of 53 Procopio attorneys based in San Diego have been named 2021 Top Lawyers by San Diego Magazine. The annual accolade recognizes local attorneys who have achieved the AV Preeminent rating by Martindale-Hubbell, with this year's number of lawyers recognized a record for Procopio.
Meet the winners:
John D. Alessio, Managing Partner
Richard D. Barton, Of Counsel
William C. Belanger, Partner
Dana Bessenecker, Of Counsel
Stephen C. Beuerle, Partner
David C. Boatwright, Of Counsel
Michele Brown, Partner
Robert J. Brown, Partner
Carole J. Buckner, Partner and General Counsel
Mark G. Budwig, Of Counsel
Michael J. Changaris, Partner
Anthony J. Dain, Partner
Susan L. Daly, Partner
Dennis J. Doucette, Partner
Edsell "Chip" Eady, Jr., Of Counsel
William W. Eigner, Partner
Jason A. Femrite, Partner
Lisel Ferguson, Partner
Theodore J. Griswold, Partner
Kendra J. Hall, Partner
Jeffrey S. Hood, Partner
J. Christopher Jaczko, Partner
Paul B. Johnson, Partner
Gerald P. Kennedy, Partner
Michael R. Kiesling, Partner
Michael J. Kinkelaar, Partner
Phillip Kossy, Of Counsel
David B. Kuhlman, Of Counsel
Todd E. Leigh, Of Counsel
Robert A. Levy, Partner
Kam W. Li, Of Counsel
John J. Lormon, Partner
Michael E. Lyon, Partner
Eli W. Mansour, Partner
Patrick W. Martin, Partner
Gregory V. Moser, Of Counsel
S. Todd Neal, Partner
Craig A. Ramseyer, Partner
Roberta D. Repasy, Special Counsel
George "Jody" Root, Partner
Mary Salamone, Partner
Timothy E. Salter, Partner
Craig P. Sapin, Partner
Alexandra "Sasha" Selfridge, Senior Associate
William Smelko, Partner
Jeffrey Stoke, Partner
Eric D. Swenson, Partner
Frederick K. Taylor, Partner
Wendy L. Tucker, Partner
Paul A. Tyrell, Partner
Steven J. Untiedt, Partner
Edward C. Walton, Partner
Raymond G. Wright, Of Counsel and Deputy General Counsel
Procopio attorneys and practice groups are routinely named to various legal rankings lists, including Chambers and Partners®, Martindale-Hubbell®, and Super Lawyers®. Many of the firm's legal practices are recognized by U.S. News-Best Law Firms®, and Procopio is ranked as the largest San Diego-based law firm by the San Diego Business Journal. Procopio is also ranked by American Lawyer among the top AmLaw 200 law firms for diversity and by Law360 as a Best Law Firm for Minority Attorneys. It was recently named by the San Diego Business Journal a 2020 Diversity, Equity and Inclusion Award winner.
MEDIA CONTACT
Patrick Ross, Senior Manager of Marketing & Communications
EmailP: 619.906.5740