Procopio Elevates Six Attorneys to Partner for 2023
Procopio Elevates Six Attorneys to Partner for 2023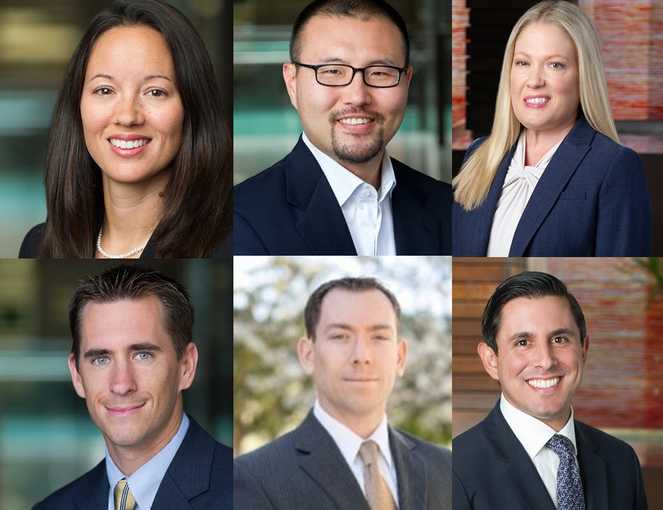 January 12, 2023 – Six Procopio attorneys based in downtown San Diego, Del Mar Heights and Orange County have been elevated to Partner status as the firm enters 2023. Elaine Harwell, John C. Lee, Alexandra "Sasha" Selfridge, Trent Andrews, Gregory Boger, and Alex Brizolis are the latest to assume this role at the AmLaw corporate, intellectual property and litigation law firm.
"Each of these new Partners has exhibited great character, competence and commitment to the firm and our clients," said Managing Partner John D. Alessio. "They possess unique skill sets that reinforce Procopio's stability and strength in the areas of commercial litigation, privacy and cybersecurity, insurance coverage, business, finance and intellectual property."
Elaine Harwell focuses on representing clients in privacy and data security matters, including litigating claims involving privacy issues, helping clients manage emerging risks and conduct privacy risk assessments, and advising on regulatory and compliance issues. She has been involved in numerous trials as well as arbitration proceedings related to contract and general business disputes, trade secret matters, complex unfair competition and business practice claims, and professional liability. Elaine has earned the ANSI-accredited Certified Information Privacy Professional/United States (CIPP/US) and the Certified Information Privacy Manager (CIPM) credentials through the International Association of Privacy Professionals (IAPP). Elaine is the co-leader of Procopio's Privacy and Cybersecurity practice and is also the firm's Privacy Officer.
John C. Lee focuses on commercial financing transactions, including secured and unsecured credit facilities, real estate loans and construction loans. He represents banks and other institutional lenders as well as corporate borrowers and real estate developers in their financing transactions. Recent deals in which he has participated include a logistics specialist obtaining a majority investment from supply chain capital specialists and a Southern California professional design consulting firm acquired by a nationwide engineering services firm.
Alexandra "Sasha" Selfridge is the leader of Procopio's Insurance Recovery practice. She assists clients in a wide range of civil litigation, including insurance coverage, appellate practice, business litigation, premises liability, breach of contract, construction defect, products liability, and transportation litigation. Among her legal successes was a jury trial she first chaired, in which she defended a client against a breach of an insurance contract claim arising out of a water loss, resulting in a unanimous defense verdict after a 28-minute deliberation. She has been named a Best Lawyers® One to Watch for the last two years in Commercial Litigation and Insurance Law and has a Martindale-Hubbell® AV Preeminent Rating.
Trent Andrews represents clients in a variety of industries with their business and corporate matters, including mergers, acquisitions, venture capital and private equity financings. His practice focuses mainly on software, technology, healthcare, financial services, energy and consumer products. Trent has experience successfully handling numerous company acquisitions by a variety of public, private, NYSE-listed and NASDAQ-listed companies. He has been recognized for six straight years by Super Lawyers® as a Rising Star in Corporate Law and last year was named a Best Lawyers® One to Watch for Business Organizations including LLCs and Partnerships.
Gregory Boger focuses primarily on U.S. and foreign patent prosecution, in addition to trademark prosecution, litigation, licensing, and intellectual property counseling. He has represented clients in a variety of fields including 5G technology, communication systems, graphics processing and multimedia, semiconductors and solid-state devices, optics and lighting applications, combustion engineering, aeronautical engineering, audio components, and mechanical devices. He has drafted and prosecuted patent applications from filing through allowance in a variety of technology areas, including wireless communications, video and graphics processing, semiconductor technology, and electronic gaming consoles.
Alex Brizolis represents clients in various complex business, corporate and real estate litigation matters.  He has represented plaintiffs and defendants in actions involving fraud, unfair competition, breach of contract, business interference, partnership disputes and disputes over corporate control in state and federal courts and arbitration. Alex also has extensive experience defending companies in class, collective and representative actions involving wage and hour, misclassification, consumer fraud and unfair business practice disputes. He was named to the 40 Under 40 list by SD Metro magazine in 2020 and for five years was a Super Lawyers® Rising Star.
MEDIA CONTACT
Patrick Ross, Senior Manager of Marketing & Communications
EmailP: 619.906.5740