Procopio Attorneys Adriana Ochoa and Sara Neva Named 2021 Women of Influence in the Law
Procopio Attorneys Adriana Ochoa and Sara Neva Named 2021 Women of Influence in the Law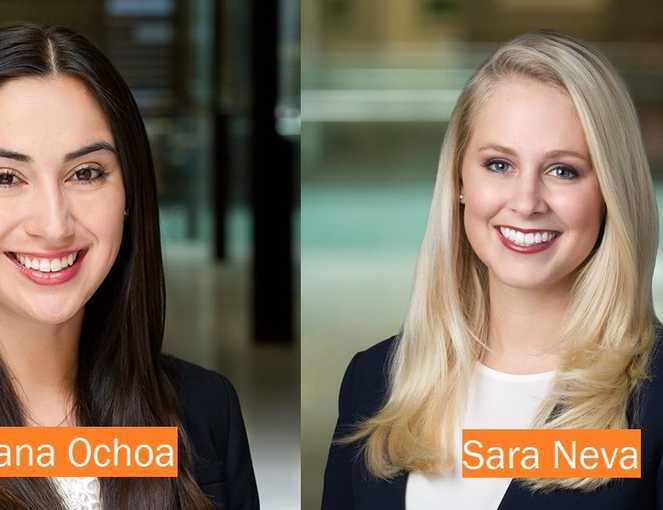 June 28, 2021 (San Diego): Procopio Partner Adriana R. Ochoa and Senior Associate Sara G. Neva were honored today by the San Diego Business Journal as 2021 Women of Influence in the Law. This honor was awarded by a distinguished panel of judges to a select few female attorneys practicing in San Diego County who have excelled in their careers and positively impacted the community.
This is not the first honor for either of these attorneys. Ochoa has been named a Rising Star by Super Lawyers for several years running, and was recognized for her pro bono work with the Casa Cornelia Pro Bono Publico Award and the State Bar of California's Wiley W. Manuel Award. Neva has also been named a Super Lawyers Rising Star for the last two years, and was named a 2020 Next Top Business Leader under 40 and a 2019 Leaders in Law Rising Star by the San Diego Business Journal as well as a Top Attorney by San Diego Metro magazine.
Adriana Ochoa is a Partner in Procopio's Public Agency practice and serves as the leader of the firm's Diversity, Equity and Inclusion Committee. She advises public agencies and charter schools on issues relating to governance, the Ralph M. Brown Act, California Public Records Act, the Political Reform Act, Government Code 1090, the California Voting Rights Act, Proposition 218, public works contracting, operational and business matters, as well as litigation. She is also a leader in the Latino legal community, having served as President of the San Diego La Raza Lawyers Association Scholarship Fund for many years, and is a sought-after speaker in the community on the topic of eliminating bias and fostering diverse and inclusive work environments.
Sara G. Neva is a Senior Associate in Procopio's Real Estate practice. She counsels clients on real estate, finance and general business transactions. Her practice involves real estate property purchase and sale, commercial leases and easements, joint venture formation and other equity investments, financing, land use and entitlements. Sara is experienced with developers, builders, lenders, borrowers, commercial real estate investors, entrepreneurs, non-profit organizations and commercial landlords and tenants. She also serves on the Downtown San Diego Partnership's Downtown Planning and Public Policy committee and is involved in the Urban Land Institute Young Leaders Group.
Procopio attorneys and practice groups are routinely named to various legal rankings lists, including Best Lawyers, Martindale-Hubbell, and Chambers and Partners. The San Diego Business Journal ranks Procopio as the largest San Diego-based law firm and named it a 2020 Diversity, Equity and Inclusion winner. In addition, American Lawyer Magazine and Law360 place Procopio high in their rankings for law firm diversity.
MEDIA CONTACT
Patrick Ross, Senior Manager of Marketing & Communications
EmailP: 619.906.5740