A Seventeen-Year Leadership Legacy
A Seventeen-Year Leadership Legacy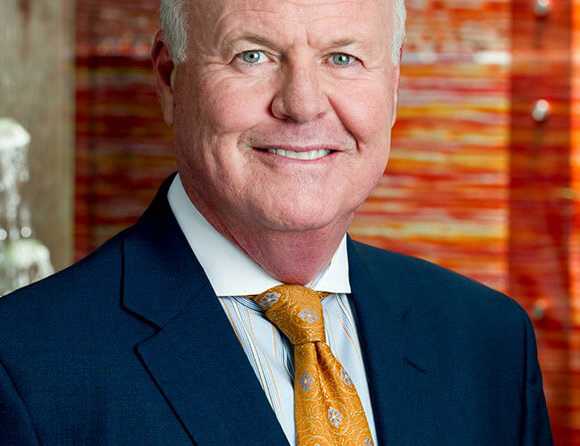 Procopio Real Estate Partner Tom Turner's tenure as the firm's Managing Partner can be told in numbers. Years in the position: 17. Growth in revenues: 435%. Increase in attorneys: 275%. New offices opened: 4. But one could argue his full legacy can't be quantified.
Anyone who has worked with Tom during his time as Managing Partner, whether inside or outside the firm, will tell you that he has been driven to ensure a firm-wide embrace of core principles, namely commitment to service; passionate people; community involvement; adding value; and driving innovation. Woven throughout those core principles is an intense dedication to workplace diversity, which has helped lead Procopio to a Top Ten ranking for Diversity in the 2017 American Lawyer rankings of more than 200 of the largest law firms in the country, and a Law360 Best Law Firm for Minority Attorneys.
But Tom also never stopped practicing commercial real estate transaction law during his long run in the firm's top leadership position. He has the accolades from clients to demonstrate his success.
"We can always count on Tom Turner to bring to the table solid legal expertise, exceptional responsiveness and a pragmatic problem solving capability," said Mark Wolfsheimer, president of Wolfsheimer Management Corp. "What truly sets him apart is his remarkably effective interpersonal communication skills – a certain cordial and professional style – that brings about cooperation from the folks on the other side of the table and gets deals done."
Tom's passion for real estate law hasn't waned, and he's eager now to expand his law practice once the formal leadership transition occurs on January 1, 2018. On that date he'll resume a position he held before becoming Managing Partner, as Team Leader of Procopio's Real Estate and Environmental Team.
In preparing for this shift, Tom has also dedicated himself to working with his fellow Management Committee members to ensure a smooth transition to an exceptionally worthy successor. Just as Tom takes the time to offer his clients the best service possible, he wanted to provide the same level of care in identifying a successor. Tom and his colleagues found that individual in Partner John D. Alessio, already a Management Committee member with a solid grip on the workings of the firm and a solid understanding of the business of law.
Tom sees even more in John. As he told every Procopio employee in a firm-wide email: "John has demonstrated time and again that his decision-making process is driven first and foremost by determining what is in the best interest of Procopio as a whole. He shares the values that have set us apart from our competition and form the bedrock of our strong firm culture."
It's not a coincidence that Tom cited "culture" in referring to John's selection. Ensuring a culture that nurtures and rewards employees while providing the highest level of service to clients has been at the core of his leadership efforts.
One example of that is the Procopio Client Service Model that Tom instituted firm-wide. Modeled after a successful customer service program instituted by the Ritz-Carlton hotel chain, Procopio's model encourages each and every employee to ask "How can we assure that we are all providing the highest level of advice and service to our clients?" The program includes four key success factors—service, attitude, consistency, and teamwork—with a recognition that clients "are the lifeblood of the firm." Those lessons guide the service all employees at Procopio provide clients, and are also reflected in the extensive community involvement performed by the firm's partners and attorneys with more than 250 arts and cultural, charitable, educational and professional organizations.
Tom's personal commitment to service is evident in his active community involvement in San Diego over many years. Among his many current charitable efforts, Tom is the board chair of the National Conflict Resolution Center, serves on the Executive Committee (and is past President) of both the San Diego County Taxpayers Association and the National Association of Industrial and Office Properties San Diego, is a member of the University Club Board of Governors and a mentor at the Joan B. Kroc School of Peace Studies at the University of San Diego. He previously served as President of the San Diego League, Home Start, and on the boards of the La Jolla Music Society and the Urban Land Institute. Oh, and he also found time to coach youth baseball and basketball teams. It's no surprise he won the San Diego County Bar Association Community Service Outstanding Attorney of the Year award in 2014
His focus on team play extends to the workplace. Teamwork among attorneys and practice groups has greatly improved under Tom's tenure. When he assumed the role of Managing Partner, Procopio was a growing firm at risk of developing silos of attorneys focused on clients but not broadly aware of other legal work being conducted at the firm. Working with the Management Committee and Chief Operating Officer Jim Perkins, Tom oversaw a process of formation of both externally focused practice groups covering different industries and fields of law, bolstering the cooperation of internal practice teams designed to facilitate information-sharing and collaboration on client business.
This scalable structure has allowed Procopio to grow at a tremendous rate while still ensuring cross-practice conversation and collaboration, including across multiple municipalities and time zones with the firm's multiple offices. During Tom's tenure, the firm has opened offices in Del Mar Heights, Silicon Valley, Austin and Phoenix, while greatly expanding its footprint in downtown San Diego. Accomplishments like these led Tom to be named the Los Angeles Daily Journal California Law Firm Leader of the Year in 2012.
Some of the new hires under Tom's tenure have been experienced partners joining Procopio after highly successful careers elsewhere, including top global and national firms. These individuals had come to know Tom and admired his leadership, vision, and heart.
"When I was ready to leave my last firm, I reached out to only one firm, well really, one individual, Tom," says Of Counsel David Boatwright. "My history with Tom, and my trust in him, is the sole reason I decided to join Procopio."
For Partner Susan Daly, it was Tom's dedication to diversity. "I knew two years ago it was time for me to move on to a new career challenge, and the only firm I considered was Procopio," she says. In crossing paths with Tom and other Procopio attorneys during her practice work in San Diego and her participation in the Korean American Bar Association, Daly found herself impressed with Procopio's diversity focus and wanted to work for a firm that shared her values and priorities. "Our diversity program brought me here," she says. "I saw the firm's culture and I wanted to be a part of it."
When explaining his passionate commitment to increasing attorney diversity, Tom says, "For me, first and foremost, it starts with doing the right thing." As a child, Tom had been inspired by reading the life stories of his African-American baseball heroes. On the credenza behind his desk today sits a photo of Willie Mays, Roberto Clemente, and Hank Aaron, a daily reminder of the struggles of admirable individuals who had to overcome huge obstacles. He even wears a vintage-style Jackie Robinson hat to San Diego Padres games.
"I've long known that I've benefited in my career from some subtle advantages that I didn't even see," Tom says. Early in his leadership tenure, Tom embraced what was then a brand-new Diversity Fellowship program by the San Diego Bar Association. The program identifies promising first-year law students from diverse backgrounds and pairs them with law firms and other organizations. Tom not only committed Procopio to bringing an intern in each summer, he picked up the phone and called just about every managing partner he knew in town, encouraging their firms and organizations to participate as well.
Not too long after that he shepherded the creation of an increasingly active Diversity and Inclusion Committee within the firm, focused on recruiting, hiring and nurturing diverse legal talent. The results appear to be paying off. In 2017 American Lawyer magazine ranked Procopio #6 among more than 200 of the largest law firms in the United States for Diversity and #2 among U.S. mid-sized firms for attorney diversity as ranked by Law360.
But Tom and his colleagues know that diversity isn't just about doing the right thing.
"There are Harvard Business School studies and other findings that show how a team with diverse gender, ethnic and socioeconomic backgrounds will produce more innovative solutions, and, not coincidentally, higher profitability," Tom says. So in line with the Procopio Client Service Model, greater diversity equals better client service. That leads to more business and higher revenues. It also hasn't been lost on him that potential clients increasingly are seeking to hire firms with a diverse cross-section of partners and attorneys. "Diversity is a strong business case," he says.
Running the largest San Diego-based law firm can be serious business, but part of Tom's focus on culture is to embrace the casual lifestyle found there. A longtime tradition at Procopio, launched by Tom, is Aloha Friday, the last Friday of each month in the summer in which employees are encouraged to wear colorful island wear or similar attire, culminating in a luau at the end of the summer with Hawaiian refreshments, music and fun. Yes, "aloha" is a term native to Hawaii, not San Diego, but Tom is quick to refer to that Pacific island chain as a "sister paradise."
Anyone who has walked the halls at Procopio, however, knows that Tom does not always restrict his wearing of Hawaiian shirts to Aloha Fridays. They've also seen their Managing Partner quick to offer every employee a smile. Even at a firm with more than 300 attorneys and staff, Tom continues to make an effort to get to know as many of his employees as he can, and to make each of them feel welcome.
"From my first day on the job, Tom made me feel like I mattered," says Benefits Administrator Adria Hunter. On her first day of work, Adria was required to attend a firm-wide mandatory meeting at which she was introduced. "I was so nervous that at the end of the meeting, I literally ran out of the room. I heard someone calling me, and it was Tom. He just wanted to introduce himself and welcome me." Adria, an experienced human resources professional, knows that management doesn't always make an effort to focus on staff. "But Tom never made me feel 'less than,' and that is incredibly important to me."
While his announcement to employees of his planned transition back to full-time practice may have come as a surprise to many, particularly the many attorneys and staff who had never known another leader atop the firm, that shock was alleviated by the realization that Tom would still be a full-time presence in the firm, flashing smiles and wearing colorful attire. Now, as a full-time real estate lawyer, the biggest winners of his decision to step down as Managing Partner will be his existing and potential real estate clients in San Diego and beyond, but all of his colleagues will continue to benefit from his positive demeanor and deep legal and managerial wisdom into the future.
MEDIA CONTACT
Patrick Ross, Senior Manager of Marketing & Communications
EmailP: 619.906.5740