Award-Winning Trusts & Estates Partner Recognized in the 2023 Powerwomen Awards
Award-Winning Trusts & Estates Partner Recognized in the 2023 Powerwomen Awards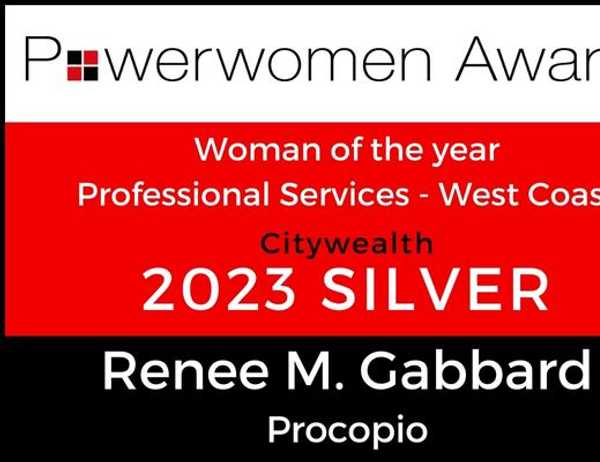 Award-winning Trusts & Estates Partner Renee Gabbard has been recognized with a 2023 Powerwomen Award by Citiwealth. Named a Silver Winner in the Woman of the Year-Professional Services West Coast category, Renee was recognized as one of a select group of individuals "who maximize the potential of women in wealth, and also create a platform for best practice to collectively exercise positive social influence on the sector."
Recognized by Best Lawyers® in Trusts and Estates Law since 2013, Renee provides her clients—including privately held businesses, high net worth clients, and charitable organizations—a wide range of legal services including all aspects of income, capital gains, gift and estate tax planning, charitable planning, advanced wealth and business succession planning, capital gains tax deferral techniques, acquisition, sale and liquidity planning, private corporate structuring, asset freeze techniques, family office planning, insurance planning, trust tax planning, and trust administration. Her experience includes business succession and wealth planning for high net worth families and families with concentrated stock, real estate, sports teams and/or privately held businesses. Renee provides these services by combining two disciplines, the Federal Gift and Estate Tax with the formation and taxation of privately held pass through entities such as limited partnerships, LLCs, and S Corporations.
The Powerwomen Awards were given out March 7, 2023, in a ceremony in New York City. In its 12th Year, the awards program, Citiwealth says, is designed "to champion women in the wealth sector and highlight the female leaders of today and tomorrow. The awards spotlight individuals and companies who support caregiving responsibilities, female leadership, and celebrate diversity."
Procopio's Trusts and Estates attorneys understand the critical importance of proper wealth management and ensuring the most advantageous legal and tax posture. They provide individuals, couples, fiduciaries, family-owned businesses, high net-worth individuals and their related family offices with sophisticated trust, estate and succession-planning services. They advise clients on all manner of transactions, including personal estate planning, business succession, wealth transfer planning, and cross-border estate management. We also help clients navigate federal and state tax controversies. Their goal is to limit the tax consequences of our clients while capitalizing on wealth transfer planning opportunities.
Procopio attorneys and practice groups are routinely named to various legal rankings lists, including Chambers and Partners®, Martindale-Hubbell®, Super Lawyers® and Best Lawyers®. Procopio has been certified two straight years by Diversity Lab as a Mansfield Plus firm for actively advancing attorneys of color, LGBTQ+ and lawyers with disabilities to leadership roles. Procopio has for six straight years scored highly on the Law360 Diversity Snapshot, in 2022 ranking #7 among all U.S. law firms with 101-250 attorneys for diversity.
MEDIA CONTACT
Patrick Ross, Senior Manager of Marketing & Communications
EmailP: 619.906.5740