Procopio Named to 2022 U.S. News – Best Law Firms List for 30 Practice Areas in 4 Markets
Procopio Named to 2022 U.S. News – Best Law Firms List for 30 Practice Areas in 4 Markets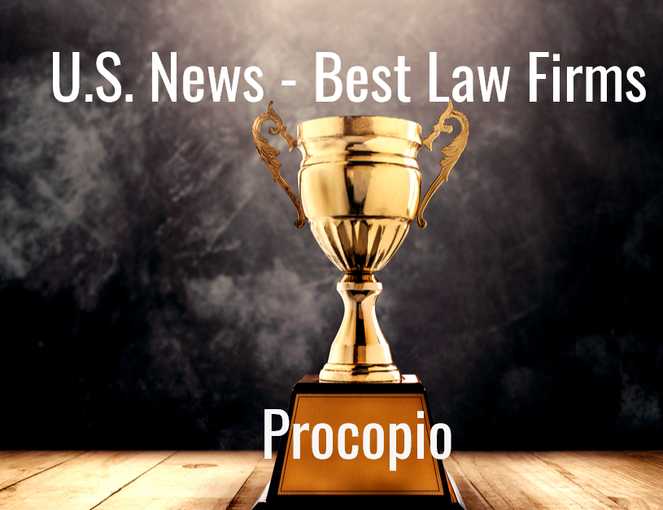 November 4, 2021 – Procopio has again been named to the U.S. News – Best Lawyers® Best Law Firms list for 2022, with this year's rankings a firm record for number of practice areas, Tier One rankings, and markets. All told, Procopio was recognized in 30 separate legal practice areas in 4 locations, namely San Diego, Orange County, Nevada and Arizona, with 14 ranked in the top tier.
The annual Best Law Firms list is compiled annually by U.S. News – Best Lawyers® through exhaustive peer-review surveys in which tens of thousands of leading lawyers provide confidential nominations and feedback.
"Procopio's purpose is to surpass client expectations with an entrepreneurial and integrated team approach, powered by experience," said Procopio Managing Partner John D. Alessio. "These peer-reviewed rankings provide valuable endorsements of our commitment to serving our clients' many legal needs in an intelligent, efficient and cost-effective manner."
Procopio secured 14 separate practice areas in the "Metropolitan Tier 1" rankings:
Appellate Practice (San Diego)
Construction Law (Nevada and San Diego)
Criminal Defense–White Collar (San Diego)
Employment Law–Management (San Diego)
Ethics and Professional Responsibility Law (San Diego)
Family Law (San Diego)
Labor Law–Management (San Diego)
Litigation–Construction (Nevada and San Diego)
Litigation–Intellectual Property (San Diego)
Litigation–Labor and Employment (San Diego)
Litigation–Real Estate (San Diego)
Patent Law (Arizona)
Real Estate Law (San Diego)
Tax Law (San Diego)
Procopio also secured additional Best Law Firms rankings, including:
Admiralty & Maritime Law (San Diego)
Bankruptcy and Creditor Debtor Rights / Insolvency and Reorganization Law (San Diego)
Commercial Litigation (San Diego and Nevada)
Litigation–Construction (Orange County)
Copyright Law (Arizona)
Employment Law–Individuals (San Diego)
Environmental Law (San Diego)
Gaming Law (Arizona)
Health Care Law
Litigation–Intellectual Property (Arizona)
Litigation–Patent (Arizona and San Diego)
Litigation–Tax (San Diego)
Medical Malpractice Law–Defendants (San Diego)
Mergers & Acquisitions Law (San Diego)
Native American Law (Arizona)
Personal Injury Litigation–Defendants (San Diego)
Personal Injury Litigation–Plaintiffs (San Diego)
Venture Capital Law (San Diego)
The full list can be found on the U.S. News – Best Lawyers® Best Law Firms website.
Earlier this year, a record 60 Procopio attorneys representing 38 areas of law in 4 metropolitan areas were named by their peers as 2022 Best Lawyers in America® or Best Lawyers Rising Stars®. Two Procopio Partners–Mary Salamone and Paul Burns–received prestigious Best Lawyers in America 2022 "Lawyer of the Year" accolades. Learn more.
Procopio attorneys and practice groups are routinely named to various legal rankings lists, including Chambers and Partners®, Martindale-Hubbell®, and Super Lawyers®. Earlier this year Procopio was certified by Diversity Lab as a Mansfield Plus firm for actively supporting and advancing attorneys of color, LGBTQ+ and lawyers with disabilities for leadership and governance roles, equity partner promotions, formal client pitch opportunities, and senior lateral positions. American Lawyer magazine ranks Procopio high among AmLaw 200 firms for attorney diversity, and the firm is recognized by Law360 as a Best Law Firm for Minority Attorneys.
MEDIA CONTACT
Patrick Ross, Senior Manager of Marketing & Communications
EmailP: 619.906.5740