30 Procopio Attorneys Named 2020 Best Lawyers in America
30 Procopio Attorneys Named 2020 Best Lawyers in America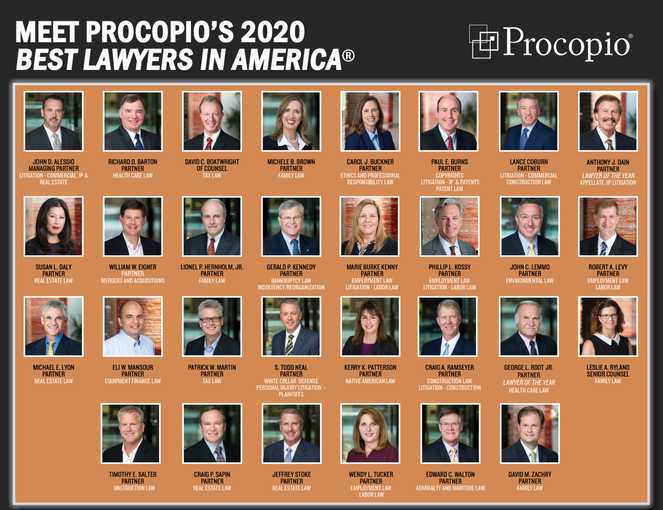 August 15, 2019 (San Diego) – Thirty Procopio attorneys representing twenty-eight areas of law in three metropolitan areas were named by their peers today to the Best Lawyers in America® 2020 list. In addition, two Procopio partners received prestigious Best Lawyers in America 2020 "Lawyer of the Year" accolades.
The Best Lawyers in America list is compiled annually through exhaustive peer-review surveys in which tens of thousands of leading lawyers provide confidential nominations and feedback.
Twenty-eight San Diego-based Procopio attorneys were recognized for their legal expertise and accomplishments in various practice areas, including:
Managing Partner John D. Alessio, Commercial Litigation, Litigation-Intellectual Property and Litigation-Real Estate
Partner and Health Care Practice Group Leader Richard D. Barton, Medical Malpractice Law-Defendants and Personal Injury Litigation-Defendants
Of Counsel David C. Boatwright, Tax Law
Partner Michele B. Brown, Family Law
Partner and General Counsel Carole J. Buckner, Ethics and Professional Responsibility Law
Partner Anthony J. Dain, Appellate Practice and Litigation-Patent
Partner Susan L. Daly, Real Estate Law
Partner William W. Eigner, Mergers and Acquisitions Law
Partner and Family Law Group Leader Lionel P. Hernholm, Jr., Family Law
Partner Gerald P. Kennedy, Bankruptcy and Creditor Debtor Rights / Insolvency and Reorganization Law
Partner, Management Committee Member, and Labor and Employment Law Group Leader Marie Burke Kenny, Employment Law-Management and Litigation-Labor Law and Management
Partner Phillip L. Kossy, Employment Law-Management and Litigation-Labor and Employment
Partner and Education and Charter Schools Group Co-Leader John C. Lemmo, Environmental Law
Partner Robert A. Levy, Employment Law-Management and Labor Law-Management
Partner Michael E. Lyon, Real Estate Law
Partner and Aviation and Marine Group Leader Eli W. Mansour, Equipment Finance Law
Partner and Tax Team Leader Patrick W. Martin, Tax Law
Partner and Litigation Team Leader S. Todd Neal, Criminal Defense-White Collar and Personal Injury Litigation-Plaintiffs
Partner Kerry K. Patterson, Native American Law
Partner, Management Committee Member, and Construction Law Group Leader Craig A. Ramseyer, Construction Law and Litigation-Construction
Partner George "Jody" L. Root, Jr., Health Care Law
Senior Counsel Leslie A. Ryland, Family Law
Partner Timothy E. Salter, Construction Law
Partner Craig P. Sapin, Real Estate Law
Partner and Real Estate Practice Group Leader Jeff Stoke, Real Estate Law
Partner Wendy L. Tucker, Employment Law-Individuals and Labor Law-Management
Partner Edward C. Walton, Admiralty and Maritime Law
Partner David M. Zachry, Family Law
Two additional Procopio partners were recognized in other geographic regions:
Nevada-based Partner Lance Coburn, Commercial Litigation and Construction Law
Arizona-based Partner Paul E. Burns, Copyright Law, Litigation-Intellectual Property, Litigation-Patent, and Patent Law
Two Procopio partners were honored by their peers with "Lawyer of the Year" awards, a designation given to only a small percentage of Best Lawyers recipients:
Procopio attorneys and practice groups are routinely named to various legal rankings lists, including Chambers and Partners®, Martindale-Hubbell®, and Super Lawyers®. The firm is ranked as the largest San Diego-based law firm by the San Diego Business Journal. Procopio is also ranked by American Lawyer as a Top Ten AmLaw 200 Firm for Diversity and by Law360 as a Best Law Firm for Minority Attorneys.
MEDIA CONTACT
Patrick Ross, Senior Manager of Marketing & Communications
EmailP: 619.906.5740