Longtime WD-40 Company Leader Awarded CEO of the Year Lifetime Achievement Award
Longtime WD-40 Company Leader Awarded CEO of the Year Lifetime Achievement Award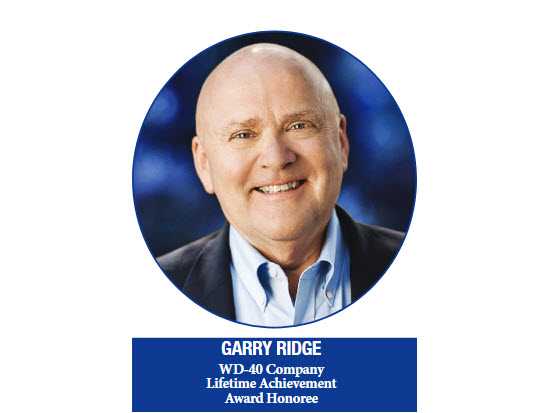 It's a well-deserved recognition for client and WD-40 Company Chairman and CEO Garry Ridge; he's been honored by the San Diego Business Journal with a CEO of the Year Lifetime Achievement Award.
A longtime Procopio client, Garry has for 25 years as CEO ensured the publicly traded company became a global player with not just its signature lubricant but through a wide range of practical products, while cultivating a renowned culture of teamwork and positivity. International sales have skyrocketed under his tenure, as well as the company's product lines.
Garry is stepping down from his CEO role on August 31, 2022, allowing him to dedicate more passion to his consulting practice, The Culture Coach, where he helps corporate leaders "build cultures that care about their people," he told the Business Journal. "Purpose-driven, passionate people guided by their values create amazing outcomes."
The WD-40 brand is iconic, as is its many product packages. For more than twenty years Procopio IP attorney Kathleen Brown has represented WD-40 Company. Currently she and IP Partner Lisel Ferguson manage the registration and protection of the company's brand through trademarks and other means. Other Procopio attorneys providing legal service to WD-40 Company include Neil Salyards, Tiffany Salayer, and Lisa Teixeira Águeda.
Said Garry to the Business Journal:
I am honored to have been even considered for the award. It has been a fantastic life experience, with lots of learning to be the CEO of a company with an iconic brand. To have worked with such an amazing group of people for 35 years, 25 of them CEO, has been a lifetime that I will treasure.
Learn more in the San Diego Business Journal (subscription may be required).
MEDIA CONTACT
Patrick Ross, Senior Manager of Marketing & Communications
EmailP: 619.906.5740