Procopio International Tax Institute 2023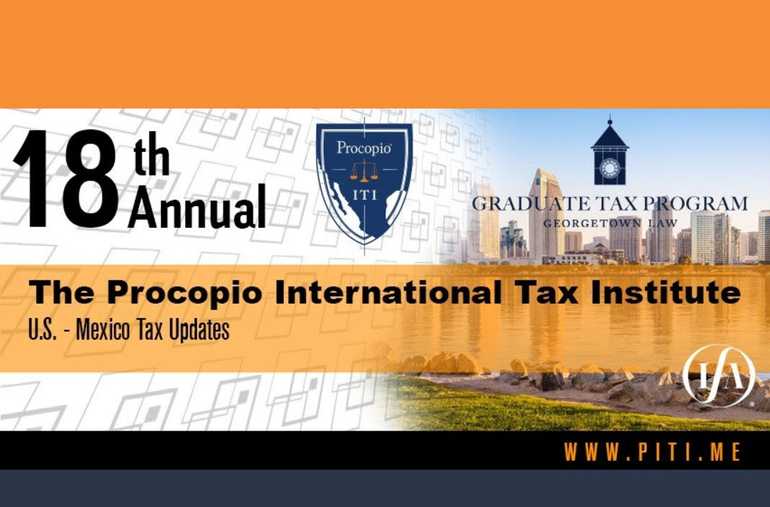 Our 18th Annual PITI Conference
The Procopio International Tax Institute (PITI) invites you to join the premier educational and networking event showcasing the latest developments in the international tax laws of the U.S. and Mexico. For the past eighteen years, the PITI conference has attracted internationally recognized leaders in the field of international tax, providing an educational platform and an opportunity to connect with industry colleagues.
The 18th Annual PITI Conference continues this tradition by staying ahead of new and relevant developments in the U.S. and Mexican international tax law arena. PITI is specifically designed for tax practitioners, U.S. and Mexican attorneys, accountants, corporate tax directors, managers, controllers, banking and financial advisors, and executives to remain up-to-date on the cutting edge of international tax matters.
This year's conference boasts a lineup of experts from the U.S. Treasury and the Internal Revenue Service, as well as their counterparts from Secretaría de Hacienda y Crédito Público and SAT, responsible for cross-border accountability operations.
Attendees will have a unique opportunity to gain knowledge and discuss essential changes in international taxation with industry peers, allowing them to stay competitive and innovative in their fields. Join us for this once-a-year opportunity to connect with colleagues and expand your expertise in international tax.
Why Attend?
In an ever changing workplace and multi-national economic environment, it is the responsibility of tax practitioners and financial professionals to remain current with up-to-the minute and detailed knowledge of international tax law matters. Be part of this International tax event which brings together the key players in the international tax industry. World-class international tax advisors, academics, practitioners and government officials have been speakers past and current.
Keep up on the latest at the official PITI website.
---
Procopio International Tax Institute 2023
Date & Time
Location
Hilton San Diego Bayfront Hotel
1 Park Blvd | San Diego, CA | 92101
Use this link to take advantage of a special rate of $239 + tax per night (single or double)
Pricing
$850 regular attendee
$495 students, professors & government / estudiantes, profesores & gobierno
Presenters
Hear from U.S. and Mexican government officials and top international tax practitioners, including Procopio International Tax attorneys.
MEDIA CONTACT
Patrick Ross, Senior Manager of Marketing & Communications
EmailP: 619.906.5740