Procopio Wins a 2020 Diversity, Equity and Inclusion Award from the San Diego Business Journal
Procopio Wins a 2020 Diversity, Equity and Inclusion Award from the San Diego Business Journal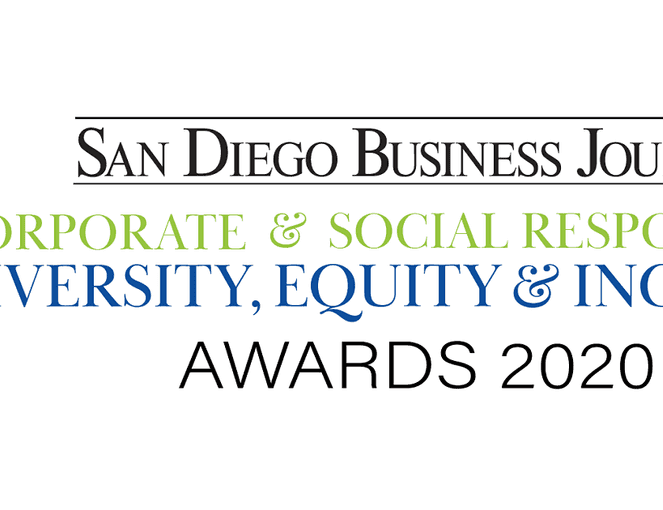 December 10, 2020 (San Diego) – In recognition to its ongoing efforts to promote diversity and inclusion within the firm and the broader legal community, the San Diego Business Journal has named Procopio a winner in its 2020 Diversity, Equity & Inclusion Award competition.
"Procopio's purpose is to surpass client expectations with an entrepreneurial and integrated team approach, powered by experience," said Procopio Managing Partner John D. Alessio. "When we bring together attorneys from diverse backgrounds, cultures, and lived experiences, we reach new levels of creative thinking and client problem-solving. Diversity and inclusion are core principles at Procopio, and supporting the hiring, growth and advancement of diverse attorneys is a task as Managing Partner I enthusiastically embrace."
Procopio's senior management and team leaders embrace diversity recruitment, retention and advancement as a core part of the firm's operations, working hand in hand with the firm's Diversity & Inclusion Committee:
Our recruitment efforts have resulted in 80% of our associate and partner hires over the last twelve months belonging to one or more diverse groups, including people of color, women, and LGBTQ+.
Our focus on retention and advancement is reflected in our 2020 certification by Diversity Lab as a Mansfield Rule law firm. As Diversity Lab states, "The goal of the Mansfield Rule is to boost the representation of diverse lawyers in law firm leadership by broadening the pool of candidates considered for these roles and opportunities. As the data analyses and highlights reveal, firms participating in the Mansfield Rule are making great strides in diversifying their leadership."
Moved by the heartbreaking death of George Floyd and the outpouring of activism resulting from that tragedy, Procopio's leadership conducted a top-to-bottom assessment of what the firm was doing right and where it could improve. Steps taken included:
Creating a Racial Equality Task Force including equity partners and other firm leaders to advance the firm's commitment to eliminate systemic racism against communities of color, and in particular, the Black community.
Joining the Law Firm Antiracism Alliance;
Instituting mandatory Elimination of Bias training for all attorneys;
Launching an annual Procopio Scholarship and Internship program for inspiring Black law students at California Western School of Law and University of San Diego School of Law; and
Joining the Diverse Attorney Pipeline Program (DAPP), committing to offering a summer clerkship to a woman of color law student.
These scholarship programs build on existing efforts, including a long-term partnership with the San Diego County Bar Association's diversity internship program and an annual Procopio internship program focused on Native American Law. The firm supports numerous law school scholarship programs, and its attorneys actively engage with and support more than a dozen diverse bar associations to connect with up-and-coming diverse attorneys and promote firm openings.
Procopio believes inclusion is a key focus to ensure retention and foster the most supportive workplace possible. The firm encourages:
All diverse attorneys to participate in a Procopio mentorship program;
Partners and senior attorneys to assign diverse attorneys to significant clients; and
Diverse attorneys to connect with the Procopio attorney who has opened a certain matter when that diverse attorney believes they have special skills or insights that might be helpful to the client.
Procopio has received many other accolades for its diversity and inclusion efforts in recent years. Since 2017 American Lawyer magazine has ranked Procopio high among AmLaw 200 firms for attorney diversity, and the firm is recognized by Law360 as a Best Law Firm for Minority Attorneys. In 2019 Procopio was named an Inclusion Blueprint winner by Diversity Lab and a Top 100 Law Firm for Women by Women, Inc. magazine.
Alessio outlines the steps Procopio took in 2020 to lead to this recognition by the San Diego Business Journal in this short video.
MEDIA CONTACT
Patrick Ross, Senior Manager of Marketing & Communications
EmailP: 619.906.5740