2 Procopio Attorneys Recognized by San Diego Business Journal
2 Procopio Attorneys Recognized by San Diego Business Journal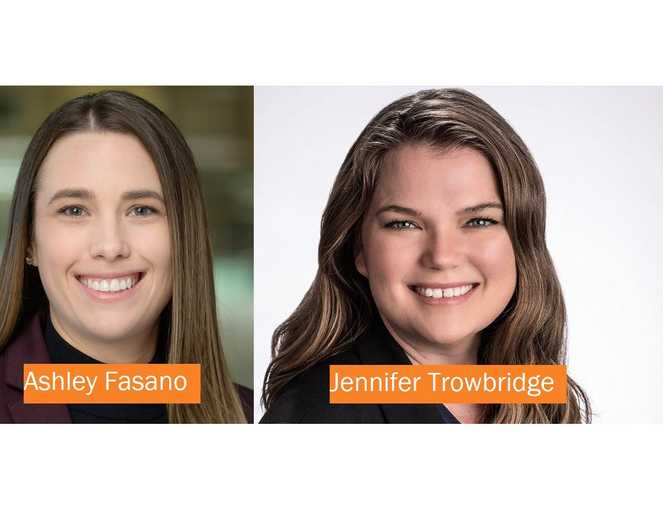 July 11, 2022 – Two Procopio attorneys—Employment Law Associate Ashley Fasano and Corporate Law Senior Counsel Jennifer Trowbridge—have been named by the San Diego Business Journal as finalists in the 2022 40 Next Top Business Leaders Under Forty competition.
Ashley handles wage and hour lawsuits brought under the California Labor Code and Wage Orders, including those with claims for meal and rest break violations, alleged unpaid overtime and minimum wages, reporting time pay, and inaccurate wage statements. She also litigates representative actions, including claims for civil penalties brought under the Private Attorneys General Act ("PAGA"). She has previously been recognized for her pro bono service and is active in the community, including serving as a Supervising Attorney for the University of San Diego Name and Gender-Marker Change Clinic and as Co-President of the Board of Directors of the Tom Homann LGBTQ+ Law Association.
Jennifer focuses on a wide array of corporate law, including securities law, corporate finance, mergers & acquisitions, and Exchange Act reporting and compliance. She represents public and private companies, investment funds and underwriters in regards to federal and state securities laws and investment and capital-raising transactions such as PIPEs, private equity, debt and venture capital transactions & SPACs. She was recognized in 2022 as a Super Lawyers® Rising Star for Securities and Corporate Finance, and was named a Woman of Influence in the Law by the San Diego Business Journal in 2021 as well as a Business Woman of the Year Finalist and a Leaders in Law Finalist. Jennifer was also recognized as a 40 Under 40 by SD Metro in 2021.
Procopio attorneys and practice groups are routinely named to various legal rankings lists, including Best Lawyers, Martindale-Hubbell, and Chambers and Partners. The San Diego Business Journal ranks Procopio as the largest San Diego-based law firm. American Lawyer Magazine and Law360 place Procopio high in their rankings for law firm diversity, and Procopio is recognized by Diversity Lab as a Mansfield Certified Plus law firm, one of only a few dozen in the United States.
MEDIA CONTACT
Patrick Ross, Senior Manager of Marketing & Communications
EmailP: 619.906.5740